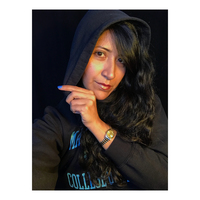 Artist | DJ | Computer Musician | Producer
"dont' ask me, ask the bank"

JA$$IE lives and works in the District of Columbia. Originally, from Laredo, Texas, a border city to Nuevo Laredo, Mexico— the duality of two cultures/economies/languages, the wave of the Rio Grande River, a bank for migratory birds— has been a major wealth of inspiration that informs her music, drawings and research as she finds new ways to draw border lines and remixes inspired from the brown mud of ther river in other spaces.
---
JA$$IE's artistic practice in grounded in light & sound and the ways it articulates space. By applying a conceptual and theoretical framework her practice crosses wires, disciplines and borders to extend, fold, and push drawing, sculpture and music—questions of composition, physicality of form, and the ephemeral and immaterial as material to generate work that draws attention to what lies at the edge of perceptibility— placing the work and audience at the bank and in a new relationship.
She

problematizes the industry of music with respect to various forms of recording: sampling, notation, code, mixing, performance, genre, improvisation/chance as a system, and she measures this information, takes it out of context in which they are normally seen and/or heard, and reshapes and represents them anew.



Her work oscillates between states of representation and fragmentation, acoustic and electronic, object and process and takes the form of site-specific, interactive installations, drawings, collage, photography, video, music, performance, research, writing and works for internet and paper.
---
She earned a Master in Audio Technology from American University in 2018 with a concentration in Computer Music, a Master in Studio Art with a focus on Interdisciplinary Drawing and Critical Theory in 2011 from the Maryland Institute College of Art, and a Bachelor of Fine Arts in Studio Painting from Texas State University. JA$$IE won second place in the 2018 Guthman New Musical Instrument Design Competition, with her instrument gramFX— making her the first woman to compete and win Georgia Tech's prestigious award. Jassie's exhibited her work in the 2016 Pure Data Conference at Stevens Institute for Technology in NJ and at the Reinstitute at Guest Spot in Baltimore. She has performed at ShapeShifter Lab in Gowanus, NY and Wave Farm in Acra, NY. JA$$IE was an artist in residence at Signal Culture in Owego, NY and her poems are archived in Ditch, a International magazine for contemporary poetry.